100
Views
This article was originally published on NCrypted.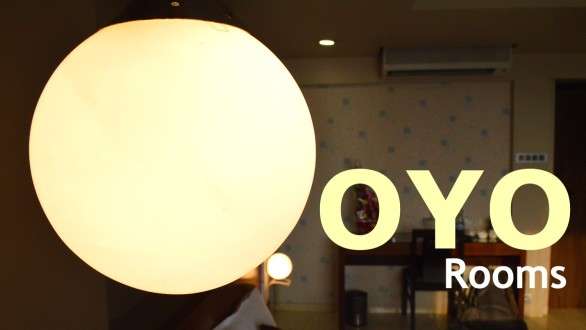 The business model of the over hyped budget hotel network OYO Rooms doesn't make sense to me for many reasons. The next unicorn (a private company valued at over US$1 billion) in waiting appears to be the next bye-bye story to me. In case you didn't know, we were the technology partners of OYO Rooms (with the parent Oravel Stays) when it was into an Airbnb type of business before it pivoted to the current business model. We at NCrypted have been partnering with startups and businesses into the vacation rental and online accommodation business through our services and products like BistroStays. So, I know enough about this industry in order to be able to comment on how these businesses are run.
Note: This article was published on March 2016 and OYO has got a couple of funding rounds in excess of US$250 million dollars afterwards from a consortium of investors lead by, none other than, Softbank. So, while the startup still seems to be operating, the conclusion of this article would still be shocking and eye opening to those who are planning to start their own business like OYO Rooms.
Is OYO Rooms publishing fake numbers to project growth?
Softbank, the lead investor in the over-hyped budget hotel aggregator OYO Rooms, recently made two announcements that included OYO Rooms growth story. If you compare that with the other numbers that the startup publicly disclosed along with their financials available with the RoC, the story starts looking fishy. The startup recently claimed 15x YoY growth and claimed to be profitable! Their claim to become profitable is highly misleading. I did a very short analysis and found out that the next unicorn (a private company valued at over US$1 billion) in waiting is poised to be the next bye-bye story unless some miracle happens, forget about profitability. It appears that the startup desperately needs to raise another funding round or shut shop in a couple of months.
OYO Rooms Business Model
OYO Rooms claims to be a branded network of budget hotels and thus different from other hotel aggregators and OTAs (Online Travel Agents) such as Goibibo, Makemytrip, Cleartrip, Yatra etc. The business model of hotel aggregators is simple as they simply connect the guest (customer) with the hotel by listing hotels on their website and take a commission as their revenue. Many a times they work out on a deal with the hotels with a minimum order guarantee per month and hence are able to provide discounted rates and deals on the room rates compared to the rates provided by the hotels directly to a normal guest. This makes them lucrative for guests. OYO business model is different. It neither owns any hotels nor is a hotel aggregator.
What is OYO business model then? You may ask. This part is interesting.
Consider OYO as Uber for hotel aggregation. OYO partners with non-standardized hotels and blocks rooms by buying them out for a certain time duration. It then resells the room inventories with OYO branding to guests. This business model of OYO Rooms naturally adds up a lot of operational cost and requires huge working capital to first block those rooms. Now, you know where the Softbank money is going!
The way OYO Rooms operates is different from OTAs since they focus on co-branding. They are saying that they partner with zero to 2 star hotels and even guest houses, 'standardize' them and bring them customers through their site and apps. Their initial marketing strategy was to list OYO properties on other hotel aggregators but that trick got hit when sites like Makemytrip, Cleartrip and Goibibo blacklisted it. This was funny because in many cases the hotel was having two listings on the same OTA, one directly by itself and one through OYO although OYO would use its own branding there and thus not disclosing the hotel name and address to anyone publicly until you book it. There are thousands of cases reported by guests on Facebook and elsewhere wherein they were not able to locate the OYO property as they did not disclose the hotel name and had half written address even after the booking was confirmed.
But, (bad) customer service is not where we want to focus on in this article. You might be asking, then why are these hotels allowing OYO to use its branding with a signage outside and on top of the hotel along with co-branding inside the room as well with its welcome kit? Especially since OYO Rooms does not own any of these properties?
How is OYO Rooms able to use its own branding at these hotels if it doesn't own any property?
You have to understand how these 0 to 2 star hotel owners operate. In most cases, they have other primary businesses and the hotels are simply used as a tool to show losses. Many of them don't bother to see regularly if their hotel is doing any business at all, let's forget about profitability. So, they are not interested in any marketing or customer service themselves as much as it is generally required from a hospitality business.
But, they wouldn't mind if some free money is going to come from somewhere if they don't have to move a muscle to get that, would they?
How does OYO Rooms Work?
I stayed at several of OYO rooms and inquired at many to find out how they are working with OYO. At one hotel that I stayed recently in Mumbai, I asked the manager how OYO Rooms is giving a room at a much lower rate than they themselves are giving to their direct customers. He said the obvious that they are blocking these rooms for the entire month by paying in advance. Now, we have a corporate discount for our company at that hotel so the manager revealed the numbers to me. He said that despite this, OYO is selling these rooms at much cheaper rates than the hotel is selling those to them. So, for example, the hotel is selling a room to a normal guest at 2,250 Rs. per night and to a corporate guest at 2,000 Rs. per night; their deal with OYO Rooms for several of rooms is coming to some 1,500 Rs. per night. OYO was selling a room at 1,150 Rs. per night at that hotel. This simply means OYO Rooms is making a loss per room per night there in order to buy customers.
Marketing Strategy of OYO Rooms
OYO Rooms is blocking rooms at these hotels by paying monthly rent in advance at a discount.
This is not an unusual practice though as most of the e-commerce companies, especially in India, due to big funding rounds, are doing the same. Acquiring customers by making losses on units. Either they don't understand unit economics or think it will all work just fine in the end – winner takes it all. What they fail to understand is that a customer brought in from such a discount war is not a loyal customer.
Understanding how Indian market is different
India is not the USA or Europe. Indian market is different and Indian consumer psyche is unique. Indian consumer is a typical money savvy one, they will stop coming to you and buying from you the day you stop giving those discounts. Indian market is not like a pigeon hole. In a pigeon hole market, there is only one place for a brand/product or company for a given category. Indian market is rather like a big banyan tree wherein there are multiple branches available for the same segment – everyone gets a pie. This is not a last man standing game and this is what most Indian startups fail understanding.
OYO is not the only one in hotel industry even though they claim that their model is innovative. A customer doesn't care much as long as the inventory and availability is there.
Loyalty is not there with hotel partners as well. Several other hotels where I inquired I mentioned that I found this hotel on OYO Rooms as well and they are offering a cheaper rate than the ones mentioned on that hotel's site or as conveyed on phone. They were spot on to the discount here and said we will give you the room at the same price as which OYO is selling it to you. The 999 Rs. room price tag is part of the marketing strategy of OYO Rooms.
The Concept of OYO Rooms
And you might wonder why would the hotels (want to) do that? The question is, why they wouldn't? Remember given the OYO Rooms business model, OYO has to buy out the rooms for the entire month in order to claim it as 'their property' and then 'standardize' it with their kit, set up and then sell it under their brand name online. The hotel is already happy as they've got the money upfront irrespective of whether the inventory is utilized or not. Whether OYO is able to resell those rooms or not is not the hotel's problem since they've got the payment. They are worried about the unsold rooms with them now, so when a customer comes in directly, it is a no-brainer that many of these hotels try to sell their unsold rooms first to them even if they have to match the dart cheap pricing provided by OYO. Because for a hotel with 20-25 rooms, if OYO is booking 10 of their rooms (as per their claim) for the entire month, the hotel is already hitting break even for the given month and might already be profitable for the given month! So, they can afford to offer rooms at such dart cheap rates now to such customers as anything is a bonus now. But, they won't do it right away since they don't want to lose the easy money coming from OYO.
You might be thinking about how I found out about that hotel from OYO Rooms since they don't reveal the hotel names and addresses! Well, I am not going to break any confidentiality of their site structure here. But, being a normal customer or visitor you can find it out yourself as well. OYO brands these hotels with their prime location and displays partial address/locality as well. For example, take this property named 'OYO Rooms Vashi APMC Market'. Now search on Google with its address and you will find Hotel Sarang Heritage listed on JustDial with its contact number etc. Now, this is a random example I've shown to you. I haven't spoken to this hotel but, as you can see in the photos as well, it is the same property that is listed on OYO Rooms.
Now, of course, as a normal guest you wouldn't want to do this because even if you call the hotel directly, last thing they can do would be to match up with the OYO pricing which you are getting with OYO anyway. Well, unless you don't trust OYO anymore due to a bad experience yourself or after reading some horrible reviews online of customers being stranded on roads in nights despite booking in advance with OYO Rooms.
But, like I said, I will not dig into (bad) customer service issues in this article as that is out of the scope of my subject for this piece.
So, Why OYO Rooms are cheap?
The bottom-line to understand OYO business model is simple – OYO is a hotel room reseller. Instead of taking a commission, they are buying out the rooms and then reselling them at their own rates by keeping their margin. In order to do this, they are spending money on standardizing these rooms and in co-branding as well, not to mention many other costs attached which we will cover shortly. On paper the idea and OYO business model looks good, but, my friend – idea is easy, implementation is everything. Let's take a look at how well they are at implementing this now.
How does OYO Rooms earn money?
OYO Rooms revenues in FY 14-15 was 2.4 cr as per their filing with the RoC. Now, this turn over is not their direct revenues earned as 'commission' but rather the GMV (Gross Merchandise Value). GMV is the total room selling price before discounts, cash backs and other such costs attached. Remember, if they are selling a room at 1,500, for example, they are only making 10-20% (commission) margin from it which is their actual revenue. But private companies take the liberty of showing GMV as their turn over which represents a very fake number. OYO Rooms, as I mentioned above, on the other hand, is losing money on almost any of these rooms by reselling them at bottom neck prices, way below their purchase price, just to get traction with the magic number of 999 per night! All of these to lure the next round of investors by showing magnified numbers which are not existing. Even guest houses are not available at that price in metros unless you are talking about a property right in the middle of a slum.
So, even if we be generous and consider that they are making about 20% from each room sold, that would make it a mere 48 lacs as their actual revenue in FY 14-15. By this they already had secured more than $25 million (more than 160 crore Rs. at 65 Rs. a US dollar) from Lightspeed Venture Partners, Sequoia Capital and others.
OYO Balance Sheet
Check out the company's financials disclosed with the RoC for FY 14-15.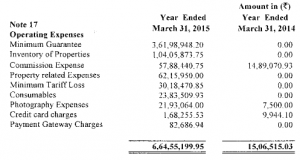 Check out 'Minimum Guarantee' and 'Minimum Tariff Loss'. According to the balance sheet, OYO Rooms is not only providing a minimum guarantee to hotel partners but also is making a big loss due to unoccupied rooms. No wonder they always have some discount deals running as those deals are used as fillers simply to increase bookings irrespective of revenues.
Deep dive into OYO Revenue Model
OYO Rooms declared in February '16 that it has hit 1 millionth night bookings. It has been in operation for about 2 and a half years now and claims to have 4,500 hotels in their partner network with 45,000 sell-able rooms. Now, that's 10 rooms per hotel which I think is highly unlikely given the obvious reasons and not forgetting the founder's history of lying and faking numbers for the sake of publicity and fundraising.
But, let's take their own revealed numbers and try to analyze the business economics. Let's consider their per room purchase cost is 1,000 and they are selling it at 1,200, giving them a handsome about 20% margin per room per night here; which again is way too higher than the industry average but let's assume that everybody just loves OYO and customers want to pay that much premium for that awesome stay! Now, although they got 1 million room nights booked in over 2 years, let's be generous and assume that they got it all in the current year itself. This will make their current year GMV at 120 crore so far and actual revenues at 24 crore with 20% margin. Now, that's 2 crore in actual revenues per month.
OYO Rooms Revenue Model
OYO Revenues
Room nights/year – 1,000,000
GMV @ 1,200 Rs. per room per night – 120 cr Rs. per year (10 cr per month)
Margin @ a handsome 20% – 24 crore Rs. per year
Margin per month @ 20% – 2 crore Rs. p.m. – Revenues
Now, let's talk about expenses.
As per a recent claim by the founder, OYO Rooms boasts of having about 1,200 employees. At an average of 25,000 Rs. per month per employee, that will make it about 3 crore per month, which is itself more than they are making from the business! Not to forget that the average salary per head would be higher than our assumption here since most of their employees are based in Gurgaon.
OYO is also spending huge amount of VC raised money on advertising (online, TV, Radio and other mass media channels) and on other marketing campaigns as well. People close to the advertising industry are telling me that their TV ads could cost anywhere between 30 lacs to 3 crore per ad creative to make and the kind of slots they were running on prime time, the total ad run budget could have been anywhere between 20 to 100 crore. Not to mention the radio, print media and online advertising budget. OYO is spending big bucks on online advertising especially on Google as well, estimated around 1-2 crore per month. But, due to non availability of reliable public sources here, let us not count marketing budget for the sake of convenience.
And, that's not where the majority of the money is going. The main expense is the inventory. Remember given the business model of OYO Rooms, have to 'buy out' the rooms in order to block them for their customers only. OYO is claiming to have 4,500 hotels and 45,000 rooms which seems to be an exaggeration again. But, let's be generous and assume they at least have half of that, 22,500, rooms under their belly. As mentioned above, assuming their buy out cost per room is 1,000 Rs., total inventory cost per month would be 67.5 crores and thus bringing the total expenses, excluding marketing and other operating costs, to 70.5 crore per month.
OYO Rooms Expenses
Employees – 1,200
Salaries @ 25,000 per employee per month – 3 crore per month
Hotels – 4,500
Rooms (considering an average of 5 per hotel, half of OYO's claim) – 22,500
Inventory Cost – 67.5 crore per month
Total Expense – 70.5 crore per month (excluding advertising, marketing and other OPEX)
It is a no brainer that with the given statistics, the business is operating at a loss of 60.5 crores per month. This still does not include the big bucks spent on advertising, marketing and other operating costs otherwise the number will shoot up like a rocket.
So, what's the runway?
After the Softbank lead latest funding round in August, they should be having roughly more than 700 crore in bank, assuming they didn't burn all the money from the previous round already by then.
Let's be generous and assume that their revenues are coming from April but their expenses started only after the Softbank round in August. Now, this is a stupid calculation in itself but let's not be evil. So from August till February gives them 6 months and if they are operating at a burn rate of 60.5 cr per month, they would have already burnt more than 363 crore by now from the operations itself in last 6 months. Let's assume they were burning half of this in previous 5-6 months in current FY and you will have around 181.5 crore to add up to losses (around 544.5 OPEX expected in current year at current rate). If you want to add up even a minimum of 50-55 crore of advertising and marketing spent here, we can conveniently assume that they have spent at least 600 crores by now. This gives them about 2 months of runway before the remaining cash is all spent at their current burn rate.
Important – Please don't forget that our calculation here is very generous. According to what I've found with many hotel partners of OYO Rooms, they are under selling rooms and hence making loss on per unit basis just to acquire customers. So, with this they don't have a handsome 20% margin here. But, we understand that startups initially think of discounting as the only strategy to lure and acquire customers, so assuming that eventually even if they turn around and start doing business with industry leading 20% margin, their business still won't make sense unless their room night bookings skyrocket which doesn't seem likely.
What's the way ahead for OYO?
The much hyped startup OYO desperately needs to raise another round in coming 2 to 3 months, mostly by May or latest by July 2016 in order to stay in the game. (Update – And they did and had to raise another round from Softbank in August 2016 of $90 million! I just told ya.) No other big investor except Softbank is currently bullish on the Indian startup scenario due to many down rounds worldwide and speculated consolidation in the ecosystem. Tiger Global Management is no longer interested in the Indian super heroes story. It is unlikely that Softbank will write another greenback cheque if no other big investor is participating and leading the round. Softbank can only see value here if another investor is leading the next round at a higher valuation than the previous one which Softbank lead. A down round won't be good for Softbank and its investors or LPs. (Update – So, I got wrong on this. Softbank wrote two paychecks of $90 million and $250 million in August 2016 and September 2017 respectively. While my tarrot reading got wrong, the analysis is bang on! Source)
It is quite clear that the revenues are not enough to keep the business self sustained, thanks to the OYO business model. Even if OYO grows at a rapid 5x rate now, due to some miracle, in coming few months, the revenues still will look tiny compared to the heavy inventory, operating and other expenses they have to keep running such a business. This is assuming that even if they have 1 million room nights booked every two months (instead of their current lifetime number of over 2.5 years so far), their actual revenues will be 10 crores on a GMV of 50 crore at a handsome 20% margin which will still be dwarfed by even their existing monthly expenses.
But growth doesn't seem to be happening with OYO anytime sooner as their website traffic is continuously declining ever since the Softbank round in August despite their on-going advertising and marketing everywhere. According to Alexa, OYO Rooms's global traffic rank is down to 9552 as of today from around 5,700 in September and is declining ever since.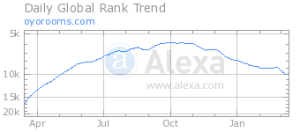 The android app downloads are also not that impressive especially after the Softbank round. In May 2015, there were about 50,000 to 60,000 app downloads on Google Play Store which shot up to more than 1 million downloads in September, thanks to the TV ad campaigns and increased online advertising, thanks to the latest funding round of $100 million. But, surprisingly the downloads seem to have got stagnated since September.
Also, given the founder's prima facie focus on publicity stunts and the startup's expansion into Malaysia, OYO seems to be quickly heading straight into a one way with a dead end. Now, what are you planning to do by running a pilot test in Malaysia? Going global, going places, hitting the hot spot, dreaming to become India'a very own multi national celeb startup? Well, give me a break. You are supposed to be running a business and not a mediocre reality show on who spends the $100 million fast and furiously. Rahul Yadav of Housing fame would have spent it quickly than my friend Ritesh Agarwal in this case as Rahul was also reportedly planning on going global. What these champs don't understand is that you have got to validate your business in India first because when the investors will wake up from their sweet sleep, you will only end up having all those public spat drama.
On the other hand, Softbank could take a back seat and infuse another small round like they did for Housing.com but that would mark the end of the super saga of the much hyped OYO Rooms.
Am I missing something? Is my data incorrect? Is my projection not having any merits? Please share your thoughts via comments.
Disclaimer: The views are of the author and not of NCrypted. All the images used are of their respective copyright owners.