33277
Views
Maqbool Fida Husain, 'so-called' greatest living artist of Indian origin (Indian origin because he is a citizen of Qatar now, no more Indian!) has been in limelight ever since he depicted Hindu gods and goddesses in 'compromising' positions and even having animal sex. Some Hindu outfits and individuals demonstrated against this and even filed lawsuits in courts! There are dozens of cases filed against M F Husain and that is the reason he has given up the Indian citizenship and taken up the one offered by the Qatar king. Our 'liberal' and 'forward minded' democrats have pleaded Husain 'Not Guilty' in the name of art and freedom of expression!
Why did M F Husain depict Hindu gods only in such a form?
I have a question for these guys – just why did Mr. Husain imagined and painted nude gods and goddesses of Hindu religion only? And why were the paintings of his own daughter and other Muslim figures which he drew were all fully clothed? It looks like Mr. Husain's obsessiveness with nudity awakens only when he sees Hindu Godesses! And he is all respectful when it comes to Muslim figures? Art should have freedom, expressions should have freedom, agree my boy – agree with you! But, then why is there no painting in which the 90+ year old Husain has sculpted a Muslim figure in nudity or in a compromising position with the Prophet Mohammed?
Why is it that only when it comes to someone attacking Hindu mythology and religious beliefs, our own Hindu journalists and so-called democrats and social workers talk of peace and freedom and all crap? But if someone is attacking Muslims in our country, the same guys will go against those culprits. Every single person in the media had gone against Narendra Modi for his 'alleged' role in the Gujarat riots during which about a thousand Muslims were killed in mass mob riots. These guys forgot the root cause of these riots in which over 300 Hindus were killed in the train in Godhra! Where were these social workers and democrats then when Hindus were being killed?
I am not in the support of violence and I do not support or encourage the violence which took place in post Godhra riots, at all. I have Muslim friends and employees working in my company and I am proud of them. My simple argument is that why are we teaching ourselves lessons all the time and when it comes to someone else attacking us, we take a backseat and let the law take its own course? If the law had to take its course, it could have already hanged Afzal Guru, the person who attacked the Lok Sabha! Incidents and people like these (including Muslims and Hindus for that matter) make the rest of us common Indians think that what they teach in Islam is all cruel and violence!
A direct attack on Hindu belief!
M F Husain's paintings are a direct attack on Hinduism and Hindu belief. Some may even argue that our own Ajanta and Ellora have arousing sculptures of Hindu demigods! True, but none of them are named after any god or goddess. None of them has a naked Saraswati, which Mr. Husain dared to imagine and even paint for public viewing to showcase how creative his stupid little brain is! Saraswati, according to Hindu culture, is the goddess of knowledge, music and art. So, Mr. Husain, an artist, drew the nude painting of the goddess of art herself! What kind of artistic freedom is this? It reminds me of a movie in which a teenager student wanted to have sex with his teacher! You think of somebody in nudity and you call it art? Excuse me but I call it sex or for that matter, the productivity of a psycho mindset, if you're thinking of your guru or your god in that position! Saraswati is not just a teacher but a goddess, teacher of all teachers! Freedom comes with great responsibility and mind you but no painter or artist on this earth has any right to make fun out of someone or some religion's culture and belief. Just why is there no naked Prophet Mohammed painted by the great Husain?
Just look at the following paintings by M F Husain, these should open your eyes – M F Husain controversial paintings
If you look at these paintings, the first thing you will realize that not a single Hindu god or goddess he has painted is well clothed. All of them are nude. On the contrary, all the Muslim figures he has painted are full clothed! Prophet Mohammed's daughter is full clothed. M F Husain's own daughter and mother are well clothed. Mother Teresa, for that matter, is well clothed. But all the Hindus in his paintings are naked! Wow. What do you call this? Some kind of artistic freedom? You are kidding yourself if you call this an artistic freedom. Just look at those paintings again, yes now, take a bow, do it! All Hindus are painted naked by Mr. M F Husain and not a single Muslim lady is without clothes. Just look at the following painting to understand the mind of this great painter and what is his perception and reason behind painting nudity: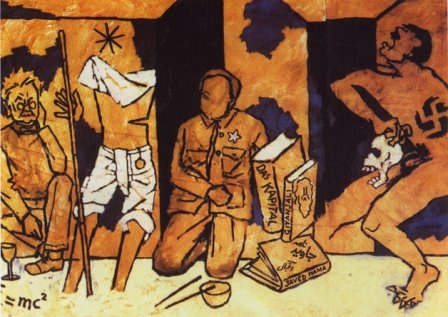 In this painting, out of the four leaders, Mahatma Gandhi is decapitated and Adolf Hitler is shown naked. The reason for drawing Hitler nude is because Husain hates Hitler. He said in an interview some 9-10 years ago that he has depicted Hitler naked to humiliate him and as he deserves it! On the contrary, during another interview after Husain painted Goddess Durga in a sexual compromising position with a Tiger (said to be Durga's vehicle), he argued that nudity in art depicts purity and is in fact an honor! Is this some kind of hypocrisy, Mr. Husain? What are you trying to prove here? Is nudity an honor or an act of humiliating the victim? You wanted to humiliated the already dead Hitler so you drew him nude. You wanted to honor Goddess Durga so you drew her nude? Are you some kind of a psycho or something, Mr. M F Husain?I can either love Prophet Mohammed or hate him, so kindly draw him nude for me, yes right now do that, will you? According to your very own controversial statements, nudity is either showing honor or an act of humiliation.
The big question is – Why did you not pick up Mohammed and paint him in such compromising position?
Oh, we have got the ball hitting the pants now! So, here, why don't you do that with any of the Muslim figure? And the rest of you guys who love M F Husain – WHAT SAY YOU NOW?
Declaration: I respect all religions and am not against any religion or religious belief. M F Husain was alive at the time of writing this blog post.