220
Views
This article was originally published on NCrypted.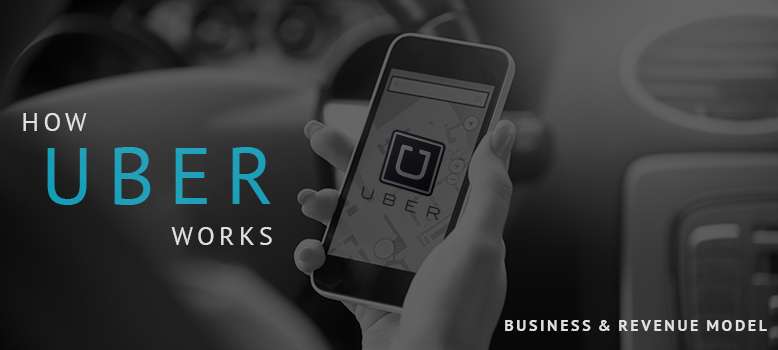 Uber has taken the on demand economy vertical by storm. Formerly called UberCab, the startup was founded in 2009 in San Francisco by Travis Kalanick and Gerrett Camp. Both the founders are serial entrepreneurs as Gerrett earlier co-founded StumbleUpon (a social discovery engine) and Travis founded Red Swoosh which he later sold for $19 million. The name was later on changed to Uber in 2010, which simply means 'Above' in German.
Uber has been pioneer in the sharing economy and the concept of Uberification or Uberisation has emerged following the inventory lite on demand uber business model. As popularly known today, Uber is an on demand taxi booking app startup. It partners with cab drivers and provides a single tap cab booking option to riders for a convenient drive in and around the city. While Uber started with just one city in the United States, it currently operates in 633 cities worldwide. Uber today is worth over $60 billion in private valuation.
In this article we will cover how Uber works, how it got started, its history, Uber business model, revenue model, key revenue metrics, Uber's unit economics, target customer segments, Uber's value propositions, key problems and solutions that Uber has for its target market along with the emergence of the 'Uber for X' model.
How does Uber Work?
Uber, through its separate partner and rider apps for different platforms, acts as an aggregation platform (a.k.a. aggregator) that facilitates ride requests within and around respective cities that it operates in. It works in, what is known as, an inventory lite model wherein it does not own any of the taxis and cabs that it has in its network. All the cabs are owned by drivers – drivers sign up with Uber and become part of the Uber network. Riders have a separate app using which they can request for a ride. The nearest driver who is currently active at the time of the request in the nearby vicinity will get the first incoming request notification. In case the driver fails or rejects the request, the notification goes to the other driver available nearby in quick succession until the ride request is entertained.
How Uber got started?
Uber got its first beta ready in May 2010 and Uber's services and mobile app officially launched in San Francisco in 2011. Initially the company only allowed users to hail a black luxury car at 1.5x the price that of a taxi.
UberX – In early 2012, Uber started allowing partner sign-ups for drivers who had their own cars, subject to a background check and some minimum car requirements. From 2009 to now in 2012, the service was operating in 35 US cities.
UberPOOL – In August 2014, Uber started carpooling service called UberPOOL with a beta test first, again, in San Francisco. The ride sharing (a.k.a. carpooling) concept is where the riders are matched with other riders who are traveling in the same direction – the app will share the first name of the other rider and the planned route. The price of the carpooling service is naturally less than traditional on demand taxi booking service.
Uber Funding Rounds and Uber Investors
The founders invested $200,000 in seed money in 2009 upon inception. In 2010, Uber raised $1.25 million from investors and by the end of 2011, Uber had raised $44.5 million in total funding. Till date, Uber has raised a total of more than US$23 billion in private venture funding.
| | | |
| --- | --- | --- |
| Date | Funding Amount (In USD) | Investor(s) |
| August 8, 2009 | $200,000 | Garrett Camp, Travis Kalanick |
| Oct 15, 2010 | $1.25 million | First Round Capital |
| Feb 14, 2011 | $11 million | Benchmark |
| Dec 7, 2011 | $37 million | Menlo Ventures |
| Aug 23, 2013 | $363 million | Google Ventures |
| June 6, 2014 | $1.4 billion | Fidelity Investments |
| Dec 4, 2014 | $1.2 billion | Glade Brook Capital Partners |
| Jan 21, 2015 | $1.6 billion | Goldman Sachs |
| Feb 18, 2015 | $1 billion | Glade Brook Capital Partners |
| Jul 31, 2015 | $1 billion | Undisclosed |
| Aug 19, 2015 | $100 million | Tata Capital |
| Feb 12, 2016 | $200 million | Letterone Holdings SA |
| Jun 1, 2016 | $3.5 billion | Saudi Arabia's Public Investment Fund |
| Jul 7, 2016 | $1.15 billion | Morgan Stanley |
| Sept 13, 2017 | $1 billion | Didi Chuxing, Dragoneer Investment Group |
| Nov 13, 2017 | $10 billion | Softbank Vision Fund |
| Total till Dec 2017 | More than $23 billion | – |
The September 2017 round of $1 billion investment from Didi Chuxing (earlier Didi Kuadi) of China with Dragoneer was actually an exit round for Uber for the sale of its China business to Didi Chuxing.
Uber Valuation
With the recent funding rounds, Uber's valuation has reached to top US$68 billion, however the latest round coming from Softbank is highly speculated as an under round for Uber, bringing its private valuation down to around US$60 billion.
Key Uber Statistics, Demographics – Facts & Numbers
| | |
| --- | --- |
| Total Funding Raised till December 2017 | More than $23 billion |
| Valuation | Over $60 billion |
| Cities Served | 633 Cities |
| Number of Countries Uber is in | 78 Countries (Nov 2017) |
| Revenue | US$6.5 billion (2016) |
| Net Income/Loss | US$-2.8 billion Loss (2016) |
| Total Employees | More than 12,000 |
| Market share | 77% in the USA (May 2017) |
| How many people use Uber? | 50 million riders (Nov 2017) |
| How many Uber drivers are there? | 7 million drivers and partners (Nov 2017) |
| How many Uber trips have been taken? | 5 billion rides (June 2017) |
| Percentage of US Android devices with Uber installed on them | 21% (Aug 2016) |
How many people use Uber vs. Car Rental vs. Taxi
Uber claimed to have 40 million active users per month in 2017 and had a market share of 77% in the ride-hailing market. Uber's fast rise to success directly correlates with the decrease in traditional taxi usage.
Why is Uber so Popular and Successful?
Uber's strategy has been to first gain traction in big cities and metros and that has been one of the primary reasons of its popularity. Also, part of the reason is the fast rise of the smartphone adoption globally. People are becoming more smartphone savvy and needs more convenient methods in terms of apps for day to day needs such as city rides. Uber just came in at the right time sensing the right need in the changing times.
Salient Features of Uber Business Model
Easy Navigation
On Trip Navigation
Geo Mapping & Live Tracking
Reviews & Rating
Fare Price Summary
Ride Summary
Estimated Fare Calculation
Easy Payments
Easy-to-use Search
Quick Ride Requests
How does Uber Work
Step by step guide to Uber Business Model
Step 1 (Request) – This is where you will be creating the demand. The touch point starts with a user requesting for a ride. The user goes to the app and requests for a ride on demand or can schedule it later for booking.
Step 2 (Match-making) – Upon the rider request for booking, a notification is sent to the nearest cab driver who has then option to either accept or reject the ride request within a stipulated amount of time. If rejected or time lapses, the request notification goes to another driver in the queue available in the same area and vicinity.
Step 3 (Ride & Tracking) – User is able to see and track in real time the driver coming to pick him/her up. Once the ride starts, on trip navigation and tracking helps the user figure out whether he/she is going in the right direction or not.
Step 4 (Payment & Review) – Uber goes with comfortable and convenient payment options for different cities based upon the user needs and awareness in that region. For example, for Indian and many SEA (South East Asian) countries, Uber provides cash payment options as well along with wallet and card payments. Review also plays a very important role in this whole experience. Uber is rather using reviews and rating more seriously and keeps it to vet out drivers with low aggregate rating in order to build a strong and happy customer experience.
The Demand Supply Challenge for Uber Business Model
This is a chicken and the egg challenge for any new marketplace startup. You need to focus on the demand side to fill up first, but the demand would fill up if you have the supply, and you simply cannot afford to keep supply filled in, sitting idle, while your marketing starts showing results and brings in customers to manage the demand side.
Uber's approach in this gives a very good lesson to startups and entrepreneurs who are planning to start a similar business like Uber, in the on demand segment. Uber focuses on building the supply chain first and keeping it ready for the demand side to service. Uber's target initially is to secure drivers as contractors whenever it enters into a new city. They understand that only if they have the supply available in this on demand business, they will be able to service the incoming ride requests. Uber wants to give a good experience to its users to make a ride always available in the nearby vicinity. Naturally this requires a lot of investment on per city basis as you will have to sign up the drivers, pay them some minimum incentives to keep them motivated to work for you initially even when there are not enough ride requests coming in. This is important especially when this model is inventory lite and works simply on commission, so the drivers don't get paid if they don't have any rides.
Uber solves this problem by providing handsome incentives and bonuses to its contracted drivers whenever it enters into a new city. The incentive scheme would vary and change from city to city.
Uber Business Model
Uber is a taxi aggregator and acts as a branded marketplace for matchmaking between cab drivers and riders. To understand Uber business model, we must need to understand that the taxi market is not regulated everywhere and is not a single market. The taxi market has always been fragmented which paved way to startup like Uber to come in and penetrate with such pace. The traditional taxi market, in every city worldwide, has always been working in two segments – (1) street hailing/cruising, (2) pre-book, with the latter being mixed with car rental business as well.
If you have ever been to a hotel or restaurant in a holiday destination, you know that you might have to expect lousy food for high prices. The restaurant owner knows that you will not come back once the holiday gets over. This is street hail segment, where a driver is highly unlikely to meet you again. Where in for on demand and pre-book segment, the driver will have to provide a better service as you are a frequent rider/customer.
This is the reason why Uber is able to keep the costs low and you get a cheaper fare compared to street hail yellow cabs. Uber is not a taxi operator, it is an aggregator rather a match-maker.
How does Uber make money?
Uber makes money by charging commission on each ride to the drivers. Uber's revenue model looks simple from the surface, but gets complicated when you take a deep dive into it.
Interesting Read: How much does it cost to build an app like Uber?
Uber Revenue Model
Different Car Types
Uber in fact started with the aim to serve the elite class only, but gradually shifted its gear towards the larger crowd as it senses a bigger market and need for the working class in the US urban cities. Uber has come up with different models based upon different car types such as UberX, UberGO (hatchback cars, available in India), UberPOOL. It has also launched UberAUTO and UberMOTO in some SEA (South East Asian), Pakistan and some Indian cities lately as the market in this region has more convenient and cheaper alternatives to taxis such as auto rickshaws (traditional three wheelers) and bikes.
Pivoting with different services
UberCHOPPER – Uber has recently come up with helicopter rides in some select cities. It started with its helicopter service first in New York. In 2016, Uber also partnered with Airbus for a trial of UberCopter in Sao Paulo, Brazil. Sao Paulo is the most populous city in Brazil and famous for its extreme traffic congestion.
UberRUSH – On Demand Delivery Service – Uber launched a motorcycle pickup service in Paris. Similarly, UberRUSH is a package delivery service in San Francisco, New York and Chicago. Other delivery services including ice cream, groceries are available in some other cities including Bangalore.
UberEATS is an on demand food delivery vertical that Uber has ventured into. UberEATS is available in 166 cities. It allows users to order food and meals from participating restaurants and the delivery is taken care of by Uber drivers.
UberBOAT is available in Istanbul, Turkey and Croatia as on 2017. UberBOAT is a water-taxi service which lets the users book a boat or yacht ride to go to a select location.
Predictive Demand Technology
Uber started working on a tool for predictive demand to figure out which area in a particular city has more demand compared to the others – which routes get more ride requests, during which time in particular and on which day in particular. With enough data, it makes sense for the company to invest money and focus on such sophisticated analytic tools to be developed.
Surge Pricing Mechanism
Although this particular feature got backlash against Uber in several countries and cities including Australia, surge pricing is a cash cow feature of the company. This mechanism simply works on its predictive demand algorithm. The more the demand, the higher the charge. Uber is known to charge even 4x or 5x the normal charge also for some routes which has got it very negative feedback from its riders and users.
Uber has to balance out both the demand the supply side of the business. With the scale comes bigger problems and the need to further micro manage the business to its deepest route. With more demand, the drivers need to be further incentivized and hence Uber constantly looks up to the time when it can charge the surge price to the riders. If you are using Uber, you would know this happening especially coming to and from city airports, where the demand is normally always high.
Uber uses surge pricing to also encourage more drivers to come to the area where the current demand is high to ensure there are enough cabs available and the ride requests don't get piled up in the queue unattended.
What is Uber's Surge Pricing?
Uber's pricing algorithm automatically detects situations of high demand and low demand and hikes the price in increment. This is not always automated and the Uber admin staff many a times intervenes the system to manually hike or lower prices in certain areas. The basic principle of economics would say that Uber's surge pricing works in the company's benefits and also helps it incentivize the drivers and encourage them to fill in the supply side in areas where it needs it the most during some particular time.
Early in 2012, Uber first experimented with the price surge technique in Boston. Uber's Boston team hiked the base fare on weekend nights around 1 am, which is when the city's public transit system approaches closing time. This created a lot of demand for Uber cars and the surge pricing helped Uber milk more money.
Is there a limit to Uber's Surge Pricing?
Uber recently announced that during emergency situations in a particular city, it caps (Source – http://blog.uber.com/UberARC) fares at a price that matches the area's fourth highest price over the preceding two months. In normal, non-emergency situations, surge pricing 6x to 8x the regular fare has been recorded.
So, why can't local taxis compete with Uber?
The question that everybody is asking is – why can't taxi operators simply compete with Uber in pricing? The answer lies in its key factor differentiation. Uber's key differentiation is in its unique business model and market segment that it is catering to. Uber operates in a different market segment than that of traditional taxi services (street hail) and car rentals (pre-book). Different market segments require different unit economics. Uber is serving two market needs, (1) match making, and (2) actual ride service. Acquiring a critical mass early on is the key in this strategy and that is where Uber's USP lies. It invests heavily in acquiring customers and before it does so, it would already have invested in building the supply side by partnering with sufficient drivers in a particular city. It is never easy to build a critical mass by balancing both the supply and demand side of the business. If it were easy, we would have seen thousands of Uber clones, which is not the case.
Uber's Operating Costs
And while Uber does so, it bleeds heavy money initially while it tries to capture the market in a particular city.
Despite a handsome US$6.5 billion in revenues in 2016 (gross was $20 billion), the unicorn startup has recorded a loss of US$2.8 billion. The loss is due to the company's focus on expansion and building up of the market demand. It incurs heavy investment and requires millions in working capital for each city that it enters, in terms of operating costs and marketing.
Uber Driver's Income
Uber is the most valued startup and is also the frontier in the peer to peer sharing economy vertical. A data compiled by Earnest gives insights into the average income of contract workers from leading sharing economy startups including Uber, Airbnb, Lyft, TaskRabbit, Etsy, Postmates, Doordash, Fiverr and Getaround. While Uber driver's average monthly income is $364, median is $155/month and is not the leading startup in this metric.
| | | | |
| --- | --- | --- | --- |
| Rank | Sharing Economy Startup | User Income (Average/Month) | Median/Month |
| 1 | Airbnb | $924 | $440 |
| 2 | TaskRabbit | $380 | $110 |
| 3 | Lyft | $377 | $210 |
| 4 | Uber | $364 | $155 |
| 5 | Doordash | $229 | $100 |
| 6 | Postmates | $174 | $70 |
| 7 | Etsy | $151 | $40 |
| 8 | Fiverr | $103 | $60 |
| 9 | Getaround | $98 | $70 |
On Demand Unit Economics
Unit economics are the direct costs and revenues for a particular business model derived on a per unit basis. The unit economics and unit metrics are the fundamental approaches in analyzing whether a startup is fundamentally sound or not. Surprisingly, many startups have failed because of poor unit economics. Unfortunately, entrepreneurs lose the focus on the basic business fundamentals and take a deep dive in other non-productive tasks such as over focusing on team building, fundraising, scaling up of business and (worst) marketing around hype creation that they end up screwing up their business' unit economics and eventually have to shut down.
Major e-commerce marketplaces today such as Amazon, Flipkart and on demand businesses such as Uber also seem like they are losing ground on their unit economics while over focusing on customer discounts and partner incentives. A business has to burn money initially while they are building the ground and establishing the brand, but the big question is how long can you continue discounting the business? This is a question that has no single answer. Let us try to look at whether the unit economics of Uber make sense or not.
For on demand taxi booking, car hailing, ride sharing business, first you need to scale down everything on an hourly basis. The reason to do this on hourly basis is because the supply side of your business, the drivers, are calculating their earnings and wages on per hour basis only.
The unit economic theory can be formulated as mentioned below:
Uber Unit Economics
If you are a startup planning to start your own on demand taxi booking app similar to Uber, you need to make sure that the revenue that you bring in per hour is more than your cost per hour including the incentives given, operating expenses, deliveries etc.
Uber Business Model – Go-to-market Strategy
Uber's go-to-market strategy has been of brute force, by aggressive pricing and whatever-it-takes marketing moves and has been pretty much in news all over the world for circumnavigating local regulations and laws. Uber, in fact, pioneered the concept of on demand ride sharing and hence many countries, even many US cities, did not have a governing law or regulatory bodies and watchdogs which made the way easier for Uber to penetrate initially. Uber's popularity precedes its name and entrance into the market wherever it goes. And this, at much extent, is now working against its growth strategies. Sensing this, Uber's current CEO Dara Khosrowshahi, after taking over from the outgoing CEO Travis Kalanick, sent an email to all Uber employees citing that the same strategy that brought them here will not work now.
Due to the same reasons, Uber could not penetrate into China and lost to the local Chinese rival Didi Chuxing (earlier Didi Kuadi). Uber's China go-to-market strategy was a particularly interesting case. It tried to conquer the Chinese market with the same brute force strategy and it lost. Lyft, Uber's arch rival in the US, on the other hand has picked up a different go-to-market strategy wherein it focuses on stable gradual growth instead of an aggressive one. In 2017, Uber's market share in the US dropped from 84% to 77%. The shrunk 7% market share mostly likely went to Lyft which is the second biggest ride-hailing startup in the US.
Uber Value Propositions
Customers
Easy to tap app to book a ride to go anywhere in the city
On demand assistance and a large pool of cab drivers available for service
Discounts and free perks as incentivized and subsidized by Uber from time to time
Customer engagement and relationship (which is something that you wouldn't find in Uber's traditional counterparts)
Drivers
Additional source of income
More than 50% of Uber drivers are first time drivers and hence are more motivated towards the service as any newcomer would be
Driver has the feeling of operating his/her business without a boss
Uber boasts of making more cab driving 'entrepreneurs' by enabling and motivating them to drive and chose this profession
Uber and some of its competitors like Ola Cabs in India are also partnering with banks to help the driver get loan assistance to buy a new car and then contract it out to Uber
Flexible working hours and schedule for drivers is a big relief to them as versus a conventional job
Uber Business Model Canvas
Uber for X Business Model
Following Uber's success, there is an influx of booming startups describing themselves as 'Uber for X', where X would be grocery delivery, package delivery, on demand food ordering, on demand babysitting, or any other tangible or intangible on demand service. Uber for X has become a kind of shorthand for convenience in the on demand industry. Uber for X means a technological solution for any of life's frustrating and boring tasks by either making them more convenient or automating them completely.
Who are Uber's Biggest Competitors?
The biggest unicorn, omnipresent, Uber has very powerful competitors as well worldwide. Although none of the Uber competitors are present in the level and scale as that of Uber, many of them are giving a very fierce competition to Uber in respective countries and regions.
Lyft – Uber's biggest arch rival in the United States
Lyft, like Uber, operates from San Francisco and is available roughly in 220 cities within the United States. Lyft has also gone international by starting operations in SEA (South East Asia) region – in Indonesia, Malaysia, Singapore, Thailand, The Philippines, and Vietnam. In the USA, Lyft has less than 20% market share in the on demand ride hailing market, far behind as that of Uber which enjoys 77% market share as of late 2017.
Didi Chuxing – Once Uber's bigger competitor in China
Didi merged with Kuadi to form Didi Kuadi and later got renamed as Didi Chuxing. Backed up with powerful and influencing Chinese investors, this Uber of China made Uber run for its money in China and eventually Uber had to sell off its Chinese operations to Didi for US$1 billion in 2016.
Didi operates in 400 cities across the region and claims to have booked 1.43 billion rides in 2015 alone which would put Uber in No. 2 position in terms of number of rides booked. Didi Chuxing has a monopoly 99% market share in China for on demand ride hailing segment.
Didi has also formed strategic partnership and alliance with Uber's arch rivals in different regions such as Lyft in the North America and SEA, Grab in SEA and Ola in India.
Grab – Uber's top competitor in South-East Asia
Formerly known as GrabTaxi, Grab mainly operates in SEA region, primarily in Malaysia, Singapore, Thailand, Indonesia, Vietnam and The Philippines. Grab has raised a total of US$1.44 billion in equity funding so far and has around 75,000 registered taxi drivers in its network.
Curb – Differentiated Business Model to Rival Uber in the USA
Curb was born in 2014 after the reformation of Taxi Magic (2009) and RideCharge (2007). Curb operates in 60 US cities, has partnered with 90 cab companies and has 35,000 cars in its network. Curb's business model is different from that of Uber, wherein it partners with taxi and car operators to fulfill the supply side of the business. So, instead of directly partnering with the drivers on contractual basis, Curb partners with the taxi booking and car rental agencies. According to Curb, this allows the company to provide reliable, safer and more professional service to the users. And since the taxi operators are part of taxi unions and have registrations as per the law, Curb avoids legal hassle that Uber has to deal with on a regular basis.
Ola – Uber Clone in India is giving a tough competition to Uber itself
OlaCabs, popularly known as 'Ola', started in 2010 in Mumbai as a cab aggregator. Ola is Uber's prima facie competition in India after Ola's buyout of its smaller rival TaxiForSure (Taxi4Sure) for US$200 million in cash. Ola has so far raised over US$3 billion from high profile investors including Softbank, Tencent Holdings, Falcon Edge Capital, DST Global etc. Ola is primarily operating in India and has presence across 22 cities with 40,000 cars in its network. Ola is the member of the Didi, Grab, Lyft partner network which was created to provide a combined competition to their common arch rival Uber.
Careem – Uber of MENA
Based in Dubai (UAE), Careem is giving a tough competition to Uber in the MENA (Middle East and North Africa) region. Careem is operating in 53 cities, mainly in MENA with a small presence in South Asia as well. Careem is privately valued over US$ billion and has powerful investors backing up the transportation on demand startup including the Kingdom Holding Company of Saudi Arabia, Daimler, Rakuten, Saudi Telecom among others.
Uber Challenges – Biggest Threats to Uber's Future
Uber faces many challenges, resultant of its fiercely aggressive approach to win market shares worldwide and its brute force strategy. From regulations to lawsuits, taxi unions to driver protests, passenger complaints to rider abuses – Uber has it all. 2017 has not gone well for Uber in particular.
Waymo Lawsuit
Google's self-driving car division, Waymo, filed a lawsuit against Uber in February 2017. Waymo alleged that an Uber employee illegally downloaded 14,000+ technical documents, including the blueprints for its lidar sensor, which is a technology essential for fully autonomous vehicles. This is interesting as both Google and Uber were having internal projects with heavy funding for autonomous vehicles. Google, surprisingly, was one of the earliest investors in Uber, through its startup funding arm Google Ventures.
Greyball Investigation
The New York Times investigation in March revealed the darker side of Uber wherein the company was accused of keeping users who might be working for regulators of law enforcement from using its ride hailing service. This confidential program was called Greyball. Greyball's purpose was to help Uber avoid detection in cities that prohibited it from operating.
Uber's Cash Burn
While Uber generated more than US$6.5 billion in revenue in 2016, it made a towering loss of US$2.8 billion in the same year. It is burning more money than it is making in a run rate. It is also expanding to more cities like a 'virus' would spread and hence needs more food, in terms of private equity funding, to keep feeding the engine.
With the current cash pile that Uber has, it can continue to burn money for more 2 to 2.5 years. But, this won't come without a price. If the startup doesn't raise another big round when the cash pile dries up, expect the prices to hike, fares to increase, driver profits to dip and partner (driver) incentives and bonuses to fade away – especially in markets where competitors (Lyft, Grab, Curb, Ola, Careem anyone?) are badly looking for such opportunities.
Toxic Culture, Layoffs & Employee Exits
Uber has got a lot of bad PR for being the badass company that keeps its competition at toes and naturally the company culture is no different. In February, a former Uber employee published a blog post claiming that she was sexually harassed and discriminated while working at Uber. To add to this, many of the top executives of Uber resigned in 2017 and many were laid off by the company. This was followed up by the co-founder Travis Kalanick resigning from the post of CEO.
Driver Complaints
In September 2017, an Uber driver in India got convicted in a rape case. Uber got a lot of negative publicity and bad PR on this incident in particular and had a huge impact on its branding. Every now and then, there are driver complaints from angry and unhappy users showering their angst against Uber drivers on social media.
Uber Ban in London
The recent London shut down has worsen the woes and the company knows that it is not looking good from a futuristic perspective.
The Future of Uber Business Model
In his first address to the employees, the new CEO Dara Khosrowshahi knew that he had to make the company change in order to move forward in future. "This company has to change. What got us here is not what's going to get us to the next level," Khosrowshahi said to Uber's employees during a meeting in San Francisco. Dara said that Uber's business plan would be on focusing on the core ride-hailing business. He plans to pay the bills as quickly as possible and the game plan is to prefer for an Uber IPO in early 2019.
It would be very interesting to keep watching this space in 2018 to see how the Uber business and its business model shapes up.
Takeaways from Uber Business Model
Despite all this diaspora, it is not hard to startup an on demand ride sharing and on demand taxi hailing business like Uber, if you only start focused with one city first. Small is good, small is beautiful – that's what we at NCrypted believe in – Think Big, Start Small. You don't need a global business. As I have covered in this article about Uber's modus operandi, it also fragments its business and operates on per city level.
How to start an on demand taxi app business like Uber?
Building an MVP of on demand taxi booking app like Uber isn't expensive anymore – thanks to NCrypted's ground breaking solution for on demand services, BooknRide. You don't need all that predictive analysis, data science, back-end processes, DevOps and deep dive mapping technology. You need a business model like Uber or in line with that of on demand vertical and an MVP product that can help you startup quickly so that you can go to market with confidence. Check out BooknRide, in case if you still haven't, to see how it can help you get started today with your own Uber clone. But, yes, focused on one segment, one market and with a differentiated strategy. Our business experts are available for a free consultation session on this subject – get in touch today.